Grass-Guide 2 Product FAQ
Availability
Is Grass-Guide 2 available outside New Zealand?
---
Currently Grass-Guide 2 features are specific to the New Zealand market only, and this is the only country in which Grass-Guide 2 is sold. Our other version of the product, Grass-Guide is sold throughout the UK, Ireland and Australia, and is available in other countries by request. Please visit our Amazon store to buy if you are located in other regions. Note that additional shipment, import fees and taxes may be due. At the moment, Grass-Guide and Grass-Guide 2 are only available in English language versions.
---
Where can I buy Grass-Guide 2?
---
Grass-Guide 2 is available in New Zealand only and exclusively from Farmlands Cooperative. Please click the Buy Now link on the top tab of this site to be taken to Farmlands website where you'll find more details. Our alternative product Grass-Guide, is distributed via a network of dealers across the UK, Ireland and Australia. Check this map for the closest retailer, or buy online.
---
---
Pricing
Are there ongoing subscription fees?
---
No. You only pay the upfront fee for Grass-Guide 2 and all updates to the functionality that you purchased will be downloadable for free for the life of the product. Access to your data in Grass-Guide Online is also included at no additional charge. We plan to add extra chargeable services at a later date, but only on an opt-in basis. Even then, all functionality available in today's Grass-Guide 2 will remain free.
---
---
Benefits
Why do I need a GPS for my tractor?
---
Even the best drivers are surprised by just how much they can miss or overlap areas during fertiliser broadcasting, spraying and other tasks where it's hard to judge what's been done by sight alone. Grass-Guide 2 can be tailored to implements of any width, you can be exact in your placement, avoid double application and reduce cost, without having to learn complicated software. Grass-Guide 2 has been shown to reduce input spend by an average of 20%; if you're spending $15,000 on fertiliser a year you'll recover the unit price within a season and drive your input costs to a minimum thereby increasing your bottom line. Avoiding double dosing through accurate application is just as important in terms of plant health as the monetary savings gained.
---
Why is Grass-Guide 2 better than other tractor GPS systems?
---
After 2 years of research and development, we've designed the only tractor GPS system specific to grassland. For Grass-Guide 2, we also added specific features for the New Zealand farmer. Ease of use: Farmers have enough to do without taking time to learn and memorise functionality for another piece of equipment. Although you'll use Grass-Guide 2 again and again for a variety of jobs, we've made each function so intuitive so that you won't need to learn the system before you can use it. We've also put a lot of effort into making sure we have everything included for grassland farmers, so no need to navigate through unnecessary tillage farmer features. Reliability: the receiver that comes with Grass-Guide 2 is manufactured by an industry-leading and ISO 9001:2008 certified company, NovAtel, and imported from Canada. This is paired with a tablet by Samsung, global information technology leader and Sixty-5's proprietary, bespoke app to ensure a consistently reliable solution. If you have experience any issues with Grass-Guide 2, we offer free support by phone or email for the duration of your use of the product. Reporting: every job that you complete with Grass-Guide 2 is automatically stored in the cloud as soon as your tablet gets connected to WiFi. You can log into Grass-Guide Online, our portal, which provides for every job done: * A satellite map of your coverage
* A date stamp for your job
* Details of the job including time taken and area covered
* Sections to label your job, name your field and add notes to the activity
* The option to print your activities for your records This information is stored permanently in your private, login controlled section of Grass-Guide Online to track your jobs, providing proof of placement for compliance. Free software updates: Grass-Guide 2 software comes on as the form of an app, designed by our in-house software engineering team. We're constantly refining Grass-Guide functionality based on user feedback, and you will have the benefit of receiving any updates we make to improve functionality ongoing, at no extra cost.
---
Is Grass-Guide 2 quick to set-up?
---
The first time you use Grass-Guide y2 ou can set-up everything you need in under 10 minutes. We provide a clear user handbook with the product. After initial setup, it takes just 5 seconds to go from clicking the 'GG2' app to working your field, due to Grass-Guide 2's revolutionary user interface which makes the technology intuitive and easy-to-use so you can get on with your job.
---
---
Functionality
Does Grass-Guide 2 tell me how to drive?
---
Grass-Guide 2 doesn't make you drive the field in a certain way because we understand that you know the best way to drive, making allowances for features specific to the field or paddock you're working on such as trees, hills, etc. Instead, drive however works best for you and Grass-Guide 2 will shade the areas you've done so that you can avoid leaving gaps. If helpful, you can use Grass-Guide 2 to set a headland first, simply by driving around the outside of the area to be done. You can also set A:B guidance to follow which will create parallel lanes the width of your implement after just 3 seconds of driving.
---
How accurate is Grass-Guide 2?
---
Grass-Guide 2's NovAtel receiver gives a manufacturer guaranteed +/- 15 cm pass-to-pass accuracy using both GPS and GLONASS satellites. Should the satellite connection be lost under trees for example NovAtel's patented GL1DE technology will keep you going by learning and estimating your current path until reception is recovered.
---
I bought my Grass-Guide 2 last year, has anything changed?
---
We release updates on an ongoing basis – make sure to regularly open the Settings section in the app and hit Tap for Updates to make sure you're using the latest version. Watch the video below on how to update the app.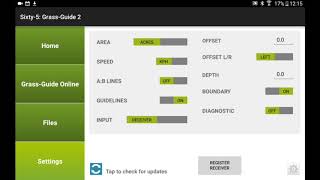 ---
I'm based in New Zealand and already own Grass-Guide. Can I upgrade to Grass-Guide 2?
---
Updates to Grass-Guide 2 software are available exclusively for Grass-Guide customers in New Zealand who would like to benefit from the extra functionality in Grass-Guide 2 which includes the ability to categorise jobs as fertiliser, effluent etc, to create or select fertiliser brand names and to enter the rate of application. To discuss upgrading to Grass-Guide 2 software from Grass-Guide, contact your local Farmlands representative.
---
---
Hardware
How is Grass-Guide 2 connected?
---
The GPS receiver and tablet in your Grass-Guide 2 unit are connected to each other via Bluetooth. This means that Grass-Guide 2 works with minimal wiring in your cab and is easily transferred between vehicles.
---
Why can't I download the Grass-Guide 2 app to my own device?
---
The Grass-Guide 2 app is only available on Sixty-5 hardware, and comes pre-loaded on the tablet inside your box. The benefits of this are: * No compatibility problems – we designed the app specifically for your tablet
* Get started straight away – you don't need a Google Play or iTunes account
* Take the tablet with you – you can use the tablet for any other purpose when you don't have Grass-Guide 2 on the tractor, unlike other hardware limited to usage as a GPS device
* Failures don't result in data loss – tablet failure within warranty; we'll send you a new one and your data is safely stored in our cloud. Should anything happen to your tablet outside of warranty, we can easily replace it at market value
---
What warranties come with Grass-Guide 2?
---
We offer a year's warranty on Grass-Guide 2 hardware. In the unlikely event that you experience a fault or a technical issue, simply call Farmlands support line on 0800 200 600 (option 5) or email ask@farmlands.co.nz for help on what to do.
---
---